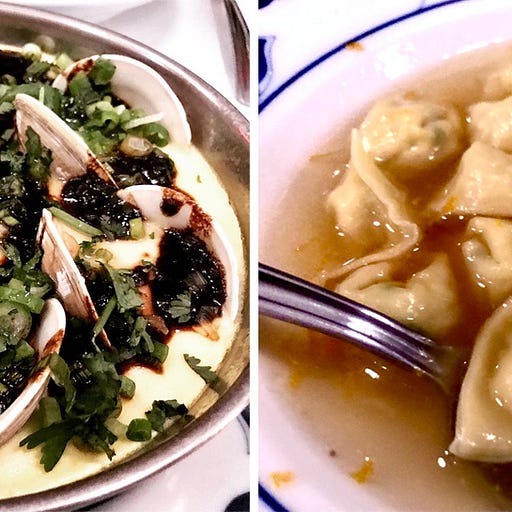 Dec 17, 2021 • 0M
My Dinner at Brooklyn's Newest Restaurant
You will want to try Bonnie's
Bonnie's is Calvin Eng's new Cantonese-American restaurant in Brooklyn, a tribute to his mother, Bonnie. The food is powerfully original.
Clams with black beans on custard — and utterly seductive. Powerful little wontons in a very intense broth.
This may look like a whole fish; it's something far more intriguing. The fish has been made into a kind of mousse — think Thai fish cakes — and then reassembled.
Salt and pepper squid. The most wonderful rice rolls — quite different from places like Joe's.
Anyone who spends a lot of money on coffee beans needs a place to hide them away. Beans want a dark, airless environment that will keep them fresh. The Atmos Vacuum Canister isn't the only vacuum canister on the market, but it's the sleekest and the most fun to use. Simply twist the top to eliminate air. When you want to open it, press the button and it produces a satisfying whoosh. Between pots it sits on your counter looking both mysterious and sophisticated. I find using this little contraption is a fine way to start the day. I imagine your friends will agree.
Garlic Bread
A fragrant loaf of garlic bread is the best way I know to please a crowd. While it bakes it perfumes the neighborhood, broadcasting such deeply nostalgic signals that it can send the staidest grownup straight back to childhood.
It is both easier and harder to make memorable garlic bread than it once was. Easier because these days it is far easier to find a great loaf of bread, and harder because the influx of cheap, imported garlic has made finding good garlic increasingly difficult. Look for garlic that looks young and fresh, and squeeze it to make sure it isn't shrinking inside its skin. (You don't want old garlic because when it starts to sprout it gets nasty and very bitter, ruining everything with which it comes in contact. You know the terrible taste I'm talking about.) If you can't get your hands on good garlic, the only remedy is to go through your garlic, clove by clove, removing the bitter green sprout in the center. It's painstaking work, but it's worth it.  
There are four other tricks to making great garlic bread.
Use a lot of garlic, but cook it for a while so it's not raw and biting.

Melt the butter — don't just soften it — and brush it liberally across the bread. When you think you've used enough, use more.

Bake it twice: Once to get the bread warm and completely infused with the garlic butter. And again, at a higher temperature, to toast it to a crisp, golden, crunch. 

Garlic bread should taste most of garlic and butter, but I love the complex flavors you get by adding lemon zest, parsley, or chives. But my favorite addition is a quarter cup of freshly grated parmesan cheese, added just before it goes under the broiler, which makes this truly, decadently, delicious.  
Recipe
1 loaf sturdy French or Italian bread
1 stick sweet butter
1 head garlic
Zest from 1 lemon (optional)
¼ cup freshly grated parmesan cheese (optional)
2 tablespoons chopped parsley or chives (optional)
Begin by cutting the bread in half, lengthwise (a serrated knife helps). Preheat oven to 350⁰ F.
Peel and finely chop the garlic. Melt a stick of sweet butter, and add the garlic.
Slather the garlic butter onto the bread, cut side up, with a brush. Let it soak in. Use it all, and evenly spread the bits of garlic all over. Now is the time to salt it if you want to, and to sprinkle on the zest.
Bake the loaf, cut sides up, 15 minutes. Remove the bread from the oven and wait to take the final step just before serving. 
Turn the heat up to broil. Add cheese, if using. Broil for about 2 minutes, watching carefully to make sure it doesn't burn. Sprinkle with herbs just as it comes out of the broiler and serve immediately. 
Click HERE for a printable recipe